Products
Phenolic HPL Toilet Partition With Hardwares
HPL Toilet partition
Features
1. Resistant to fire, heat, water, scratches; anti-static, soundproof
2. Extremely durable, not easy to deform or fade
3. Environmental protection, non toxic or radiate substance emerged
4. Can be bent, create streamlined aesthetic
5. Easy and convenient to design and process
6. Varieties of color and surface finishing can be chosen, satisfy your own favorites
7. Easy to clean, the stains can be cleaned by soft cloth.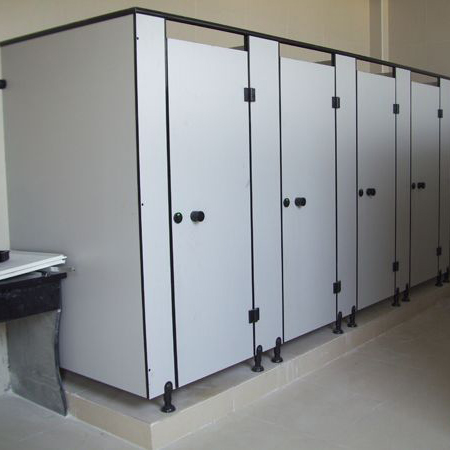 HPL Toilet partition details:
The Compact Grade laminate is a high pressure laminate, which at 2-25mm, is much
thicker than conventional laminates(0.8-1.0mm). The Compact Grade laminate is intended
for application as interior horizontal or vertical surface where high strength, impact, water
and humidity resistance are required . Because of its inherently high strength, Compact
Grade laminate may be used as a structural material. It may be drilled, tapped, sanded,
shaped, and cut with standard carbide tipped tools, Compact Grade laminate is a unique structural material which is available in panels with one or both sides faced with decorative surfaces and meeting or exceeding AS mechanical performance specifications in all categories, particularly in such cntical areas as impact strength and liquid absorption. In addition, it also meets and exceeds EN438 physical properties. Compact Grade and hardware system can be used to make a series of cubicles system,lockers system and wall system.
Usage:
Our toilet partition/phenolic Partition/Public Toilet Cubicle are widely used for public toilet and office partition in office building, school, hospital, supermarket, airport, metro station, gym, fitenss center and other public areas.we have been the nominated supplier for Pennisula hotel ,and Olympic game too.



Accessories Part:
Samekom can offer both american DUPONT Nylon or 304 grade stainless steel ,314 grade stainless steel hardware .
Price Range:
USD 43usd/sqm -62usd/sqm with hardware.