Products
Aluminium Wooden Door
Working with reliable suppliers, cooperating with distributors, contractors, designers, engineers, construction companies and trading companies, Samekom broadens its networks and serves its clients all over the world.
We are excited to show you our latest Elegant Design Modern Simple Office Door which we make huge effort to develop.
About us
Founded in 2010, Foshan Samekom Construction Material Technology Co., Ltd. is a rapidly growing company in middle and high-end interior doors industry. Basing on domestic market, Samekom also looks forward to oversea market and catches opportunity to work with clients from various countries covering the area of hospital, school, villa, apartment projects etc.
Product detail
This Elegant Design Modern Simple Office Door is made from advanced alloy composite structure, and high strength hardware and high wear resistance compact panel, MDF melamine panel, fire-rated board panel, original ecological timber panel. So the product life of this Elegant Design Modern Simple Office Door is several times longer than ordinary doors.
The door will not be out of shape. We use aluminium honeycomb as inner core, aluminium alloy as door frame so that the door is much stronger than those ordinary doors.
The door is sound insulation. We use silicon strip to fit into the door frame to protect the door frame from violent way of opening or closing the door. And the sound arising from door closing will be reduced a lot as well. Besides, aluminum honey also has the function of sound proof so which makes the sound insulation performance of this door much better than others.
The door is heat insulation. HPL board and fire rated board panels are fire resistance. On the other hand, the air in the aluminium honeycomb structure has excellent heat insulation effect.
The door is water proof because of the special treatment on the surface of the door panel. And there is 10cm high special treatment in the bottom of the door frame so you don't need be worried even when the doors soak in the water.
Color for Door Panel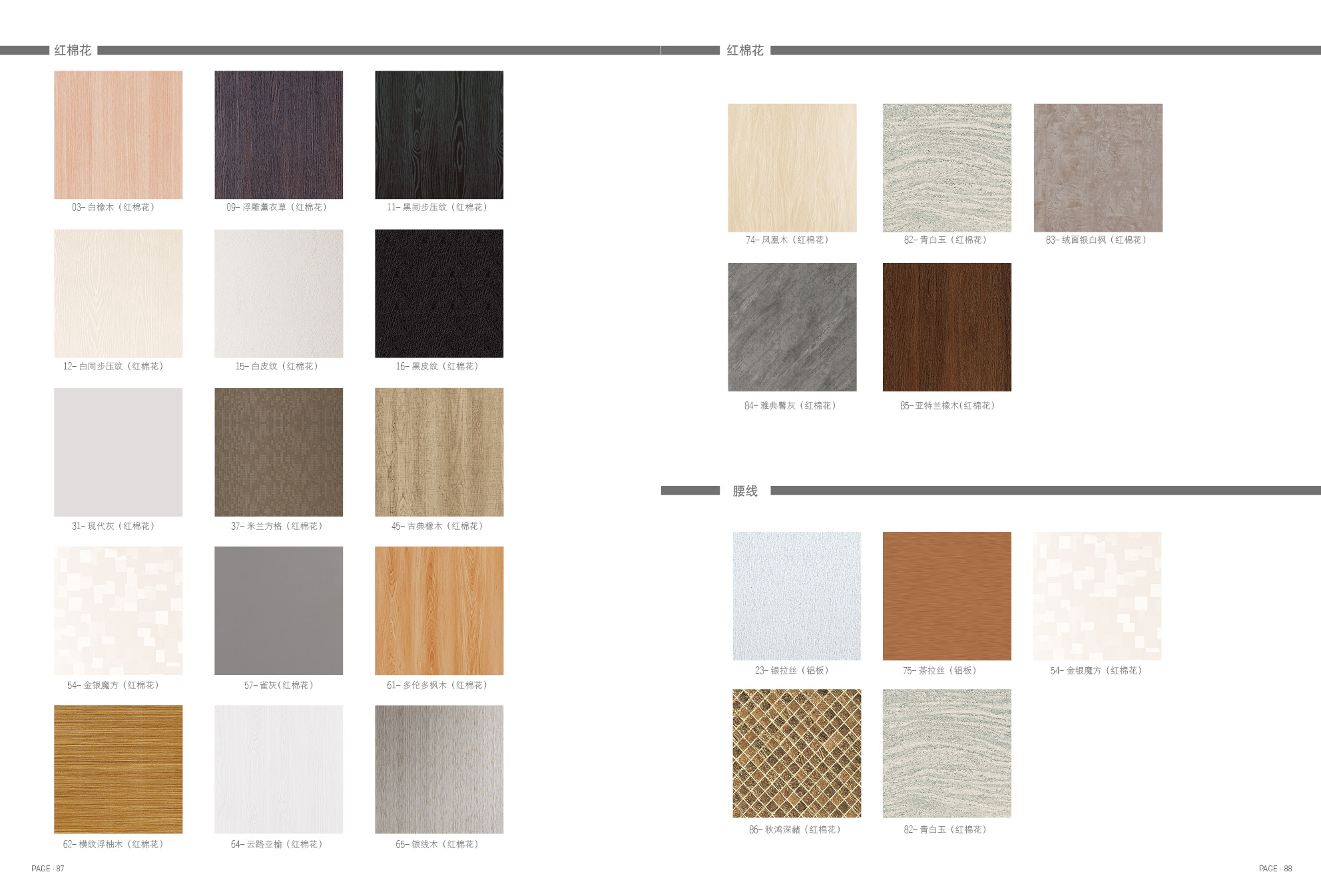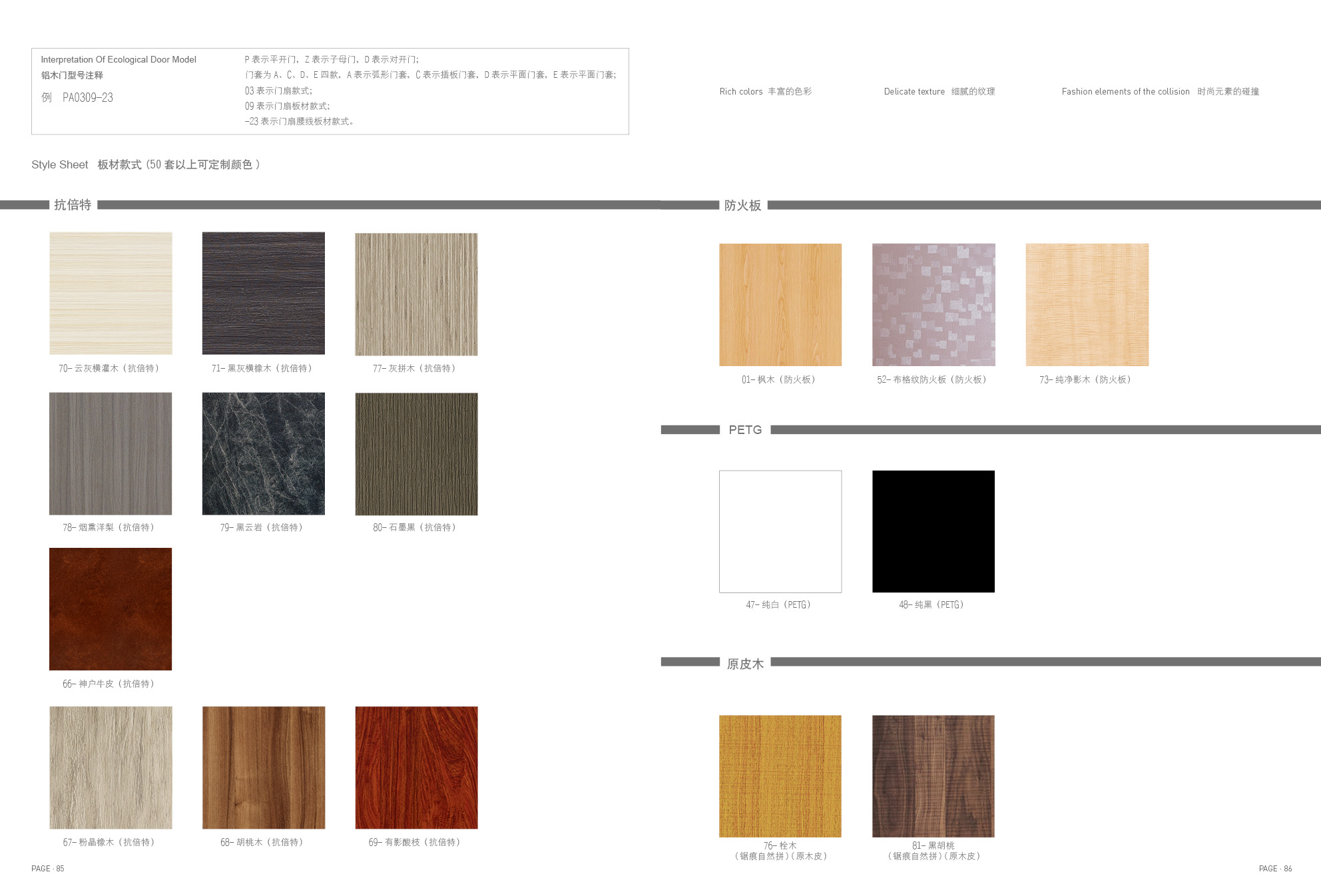 Aluminium Door Frame Model
Accessories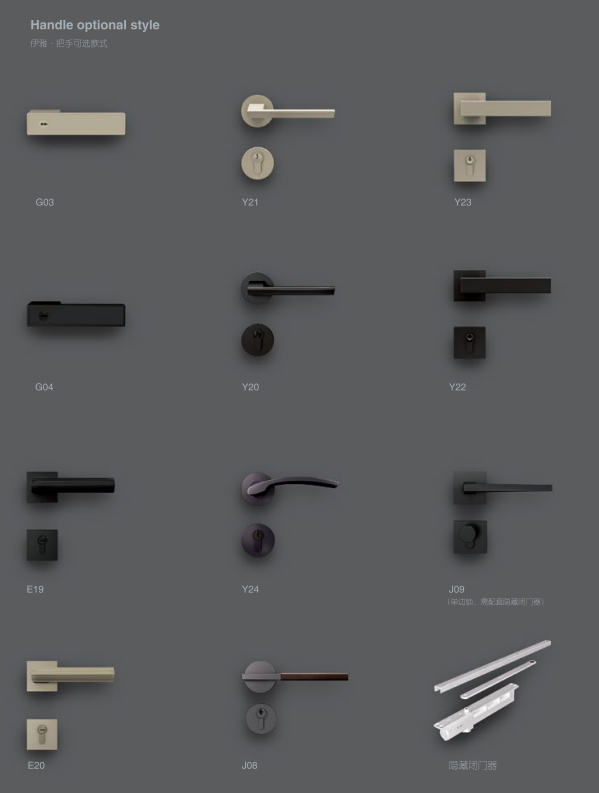 Aluminium Honey Comb