Products
Modern Pivot Door Manufacturer
modern

pivot door
Samekom is professional in design, developing, manufacturing, installing modern pivot door series. Our mission is to provide our customer with expertise solution and quality pivot door by buildup a professional servicing network and experienced engineer team. Samekom possesses large production line base in Guangzhou . Meanwhile, we have brand agent and showroom in Australia, U.S, Philippines, Vietnam, etc.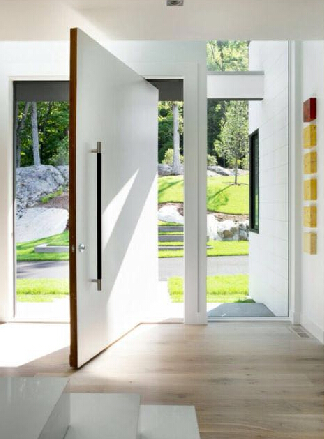 Pivot Door advantage
In a world in which living spaces seems to be shrinking by the minute thanks to personal concerns about budgets and global warming, today's feature might seem a little out of place. Still, in spaces with square footage to spare, modern type pivot doors provide a sweeping sense (little bit literally) of visual interest. Not a common architectural element, these features come in wide stages of flexibility; some open to a mere 45 degrees while others spin all the way around in an infinite circle, perhaps tempting a few fun-loving.SAMEKOM have been dedicating ourselves to this little fun-loving area for years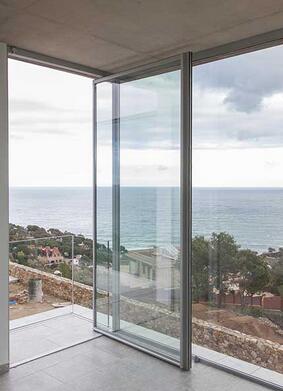 Our pivot door design including new type aluminum wooden pivot door and aluminum glass pivot door
Glass pivot doors
Rotate around a center hinge, and when presented in tandem with fellow pivot doors, a wall of glass can become a large, open window with just a few twists of the wrist. Any way you slice it, a pivot door is a conversation-worthy way to enter one interior room from another, but when presented as an exterior exit with glass in its center, it becomes a downright show-stopper.
Glass pivot door size : Maximum height of 3000mm ,with Maximum width to be 1200mm
Glass option:10mm and 12mm tempred glass or tint glass are available
Glass pivot door handle:304 or 314 stainless steel handle ,wooden handle all avaible
Wooden Pivot Door
Aluminum frame will make all our pivot pre installed already to our door set ,so that our clients can mount on easily when receiving our goods ,which easier than tradtional wooden frame pivot doors .Anodized or electronized aluminum surfacing are all optional for you ,which making our doors suitable for both interior and exterior use .
Wooden pivot door size :maximum height to be 3000mm ,maximum width to be 1300mm
Pivot Door Panel:door facing are FORMICA or stainless steel plate,with aluminum frame and honeycomb infilling .Glass sidelite are optional
Pivot door hinge :All hinges are heavy duty high grade 304 ss material ,brand name including SAMEKOM ,ARCTEK,DORMA for choices.
Pivot door accessaries:Number lock set ,door handle are all optional